All about the event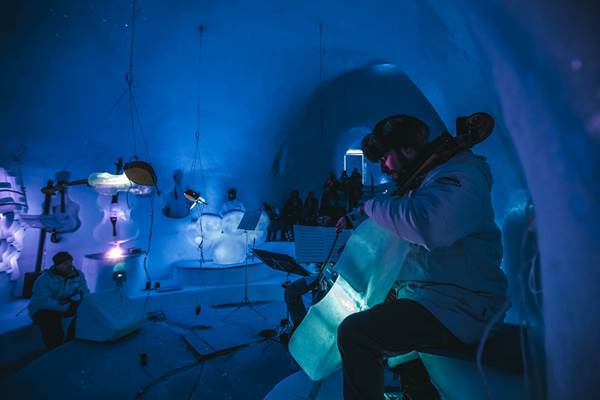 The first edition of Paradice Music takes place this Winter at an altitude of 2600 meters dominated by one of the most majestic glaciers of the Alps
The Paradice Dome is the fascinating setting of the new format which combines music and architecture. It is an ice theatre that can host up to 200 people.
Also the instruments played by the Paradice Band led by Roberto Marzucchi are made of ice: some of them are guitars, basses, violas, horns, ukuleles and even the didgeridoo. The icy instruments are artworks which perform incredible visual and acoustic effects created by the skilled hands of Lino Mosconi, Giorgio Tomaselli and Matteo Aielli: three artists born and raised in Ponte di Legno and Vermiglio who know these peaks very well and have learned to shape and carve the ice by transmitting all their passion to these instruments.
Paradice Music is a project that aims at the value appreciation of the music, the local area and the young local artists. The Paradice Band is an ensemble of musicians with various artistic backgrounds, that will accompany spectators through the marvellous world of Paradice Music. Every Thursday a different concert with various music genres and well-known songs is performed. Every Saturday the Paradice Arena hosts nationally and internationally renowned artists.
Download the brochure and find out everything about Paradice Music!