Fly through the trees on a Zip line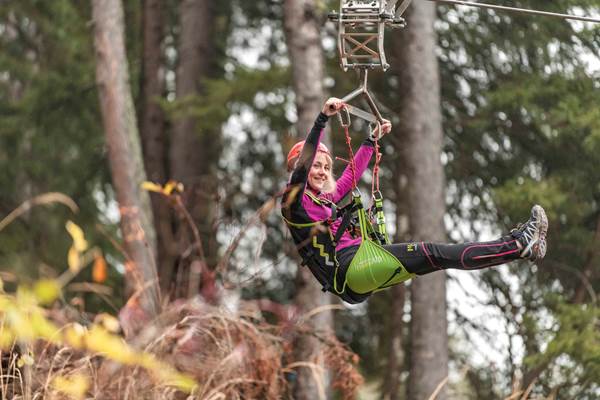 The mountains are always synonymous with intense and lasting emotions. In the Pontedilegno-Tonale Ski Area everyone can try the Zip Line, a panoramic adventure trail that allows you to literally fly through the woods supported by a harness!
Descent is by gravity, hooked to a pulley that runs along a rail or other rope sections.
Harnessed and in a sitting position the more intrepid fly above hikers and cyclists. That's not all! It is also possible to try Zip Lining in winter: well wrapped up participants have the possibility to see the snowy woods and the slopes from a very special vantage point! 
A leap of faith
a single or return ride of 6 minutes
a height difference of 249 metes
open in both winter and summer
average gradient of 20%.
safe route, safety equipment provided on site
Panoramas, adrenaline and fun for everyone
The departure point is located at the bottom station of the Casola Chairlift, at 1,506 metres above sea level, while the arrival point is near the start of the Valbione chairlift, at an altitude of 1,257 metres.
The total height is 1,291 metres, with a vertical drop of 249 metres and an average gradient of 20%.
During the descent, which lasts between 6 and 7 minutes which can be done individually or in a pairs, you can see the charming town of Ponte di Legno and the magnificent peaks surrounding it.
The Zip Line is suitable for both adults and children according to height and weight limits.