Snow!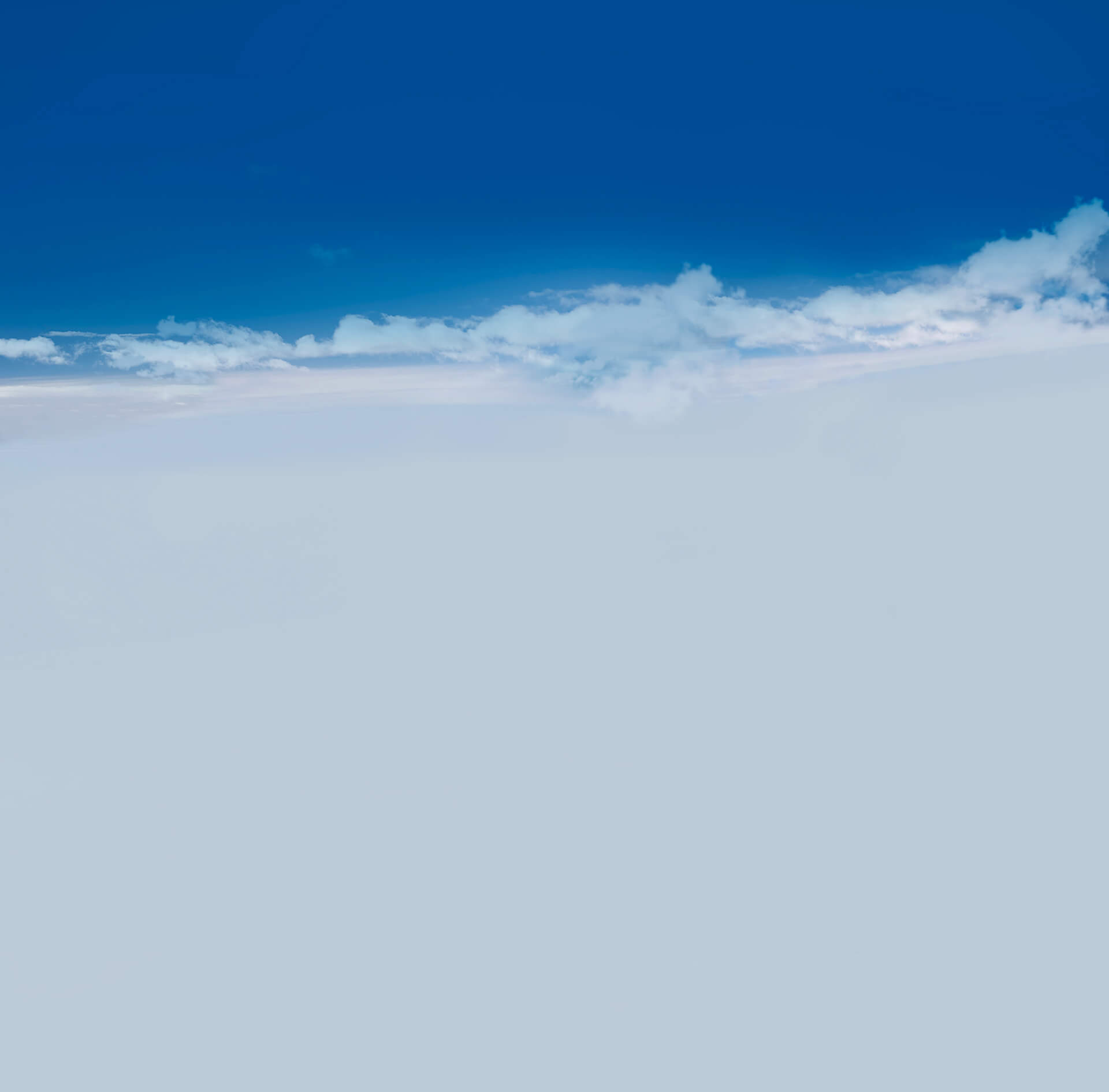 H2Oh! Pontedilegno-Tonale: natural magic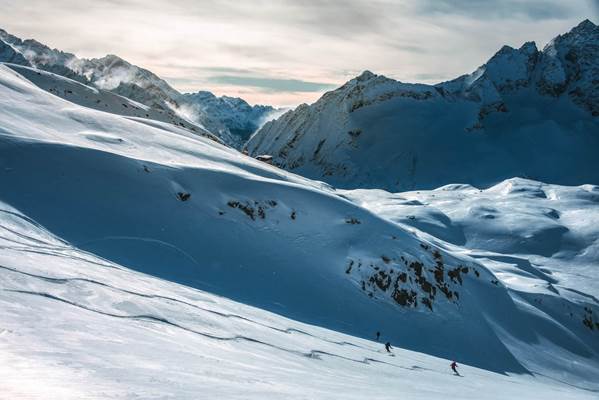 Here in Pontedilegno-Tonale snow is wonder, ice is music and water is dance. Flicking through the pages of this site you will discover why we are not only one of the most renowned ski resorts in Trentino and Lombardy, but the favourite place of those who love the mountains and want to really enjoy the magic all year round.
Thanks to our much loved Presena Glacier here it is possible to ski from autumn to spring.  In the winter the 4 different ski areas, Ponte di Legno, Passo Tonale, Presena Glacier and Temù, provide those who love winter sports with 41 slopes between 1,121 and 3,016 metres above sea level and 28 innovative ski lifts. Pontedilegno-Tonale, known to skiers also as Adamello Ski, is now one of the best equipped ski resorts in Trentino and Lombardy.
In the summer, via ferratas, climbing, bike routes and walks suitable for children fill the days of all outdoor enthusiasts. There are also lots of occasions to discover all the interesting artistic, cultural and historical aspects of our valleys with the whole family.
In addition to sport and culture there's also lots of fun! Après- Ski with music and good company, mountain huts where you can sample traditional cuisine and fabulous health spas are all part of the fantastic facilities and services at the Pontedilegno-Tonale Ski Area.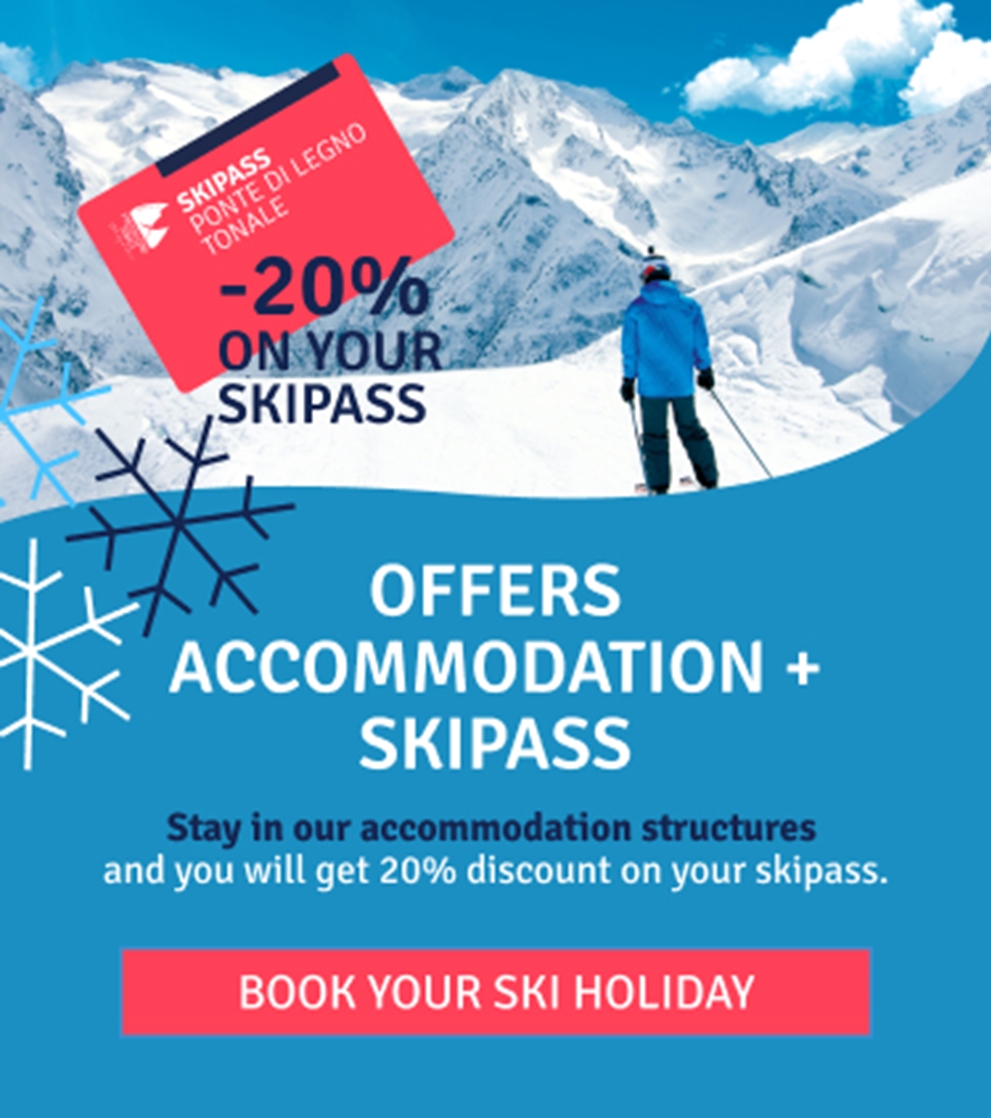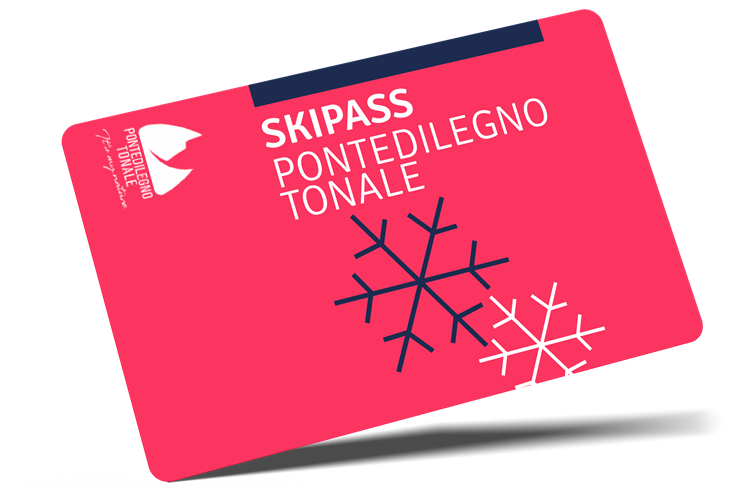 The Ski pass that satisfies your desire for skiing!
Thanks to a single Ski pass you can use all 28 ski lifts and 41 slopes in our Ski Area! Choose the type of ski pass that is best suited to your needs: there are lots of flexible formulas that will allow you to organise your days on the slopes in the best way.
In addition, thanks to all the special offers and discounts for children you can save money and have a great winter holiday in one of the best ski areas in Lombardy and Trentino.
Don't forget that when you buy your ski pass online you will get lots of exclusive special offers!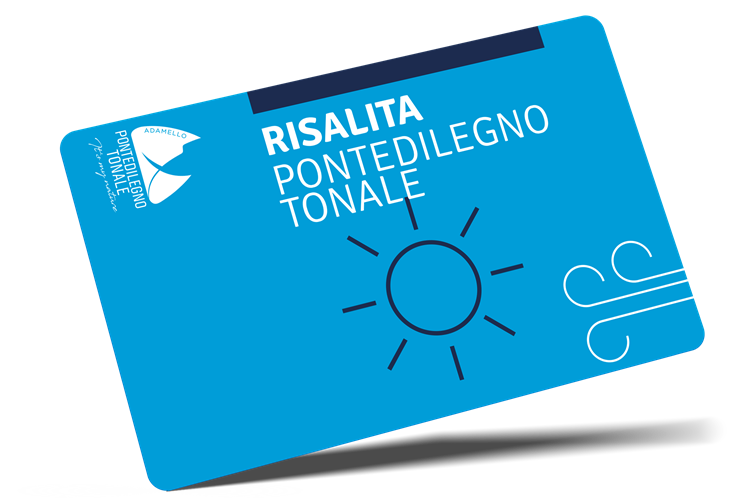 At the top of the mountains with the ski lifts!
Many ski lifts in the Pontedilegno-Tonale Ski Area are even open in the summer!
Our mountains are a popular destination for summer holidays with hikers, climbers, families and young people who want to enjoy the hundreds of trails surrounded by nature: chairlifts and cable cars take you to the top of the peaks in a flash, saving time and energy.
Even cyclists can take their bikes on the chairlifts and cable cars to pedal on wild scenic trails; hardcore cyclists can even purchase the innovative new BIKEPass.
One of the best equipped ski areas in Trentino and Lombardy
41 slopes, 28 modern ski lifts and exclusive services for sports enthusiasts, young people and families have made Pontedilegno-Tonale one of the most popular ski resorts in Trentino and Lombardy.
Skiing lovers can have fun on legendary scenic slopes such as the Pista Paradiso black run and on the Presena Glacier, have a go at alpine skiing and freeriding, or try Nordic skiing.
Our Ski Area is ideal for those who those who don't ski: there are lots of activities on the snow like snowshoeing, dog sledding, snowmobile tours as well as fat bike excursions.
Pontedilegno-Tonale, the outdoor summer destination
The area around Pontedilegno-Tonale includes some of the most beautiful natural parks in the North of Italy: here trekking enthusiasts can enjoy walks in spectacular surroundings, experience the thrill of a via ferrata or try a 2 or more day hiking trip.
The mountains are suitable for everyone! There are also lots of flat paths that are also suitable for pushchairs and quiet walks that take you to delicious lunches with all the family in mountain huts.
There's much more than nature: in the towns and villages in our Ski Area you can discover art, history and culture.
Events & News
Do you want to know what's happening in Pontedilegno-Tonale Ski Area? Here you can find the latest news on the opening times of the slopes and ski lifts, unmissable events, weather updates, interesting information and a few curiosities!
Find out all the activities
Pontedilegno-Tonale is a real paradise for sports lovers! In the winter, in addition to traditional skiing, winter sports lovers can try some extreme and innovative sports as well as have a fantastic time surrounded by wild, unspoilt nature.
In the summer on the other hand our mountains are great for trekking at a high altitude, as well as via ferratas, 2 or more day hiking trips, climbing and trails for all types of bikes.
Break your routine! Holidays are necessary to unwind, experience new things and relax.
Here in Pontedilegno-Tonale we organise lots of recreational activities: exclusive concerts, Après-Ski, dinners in mountain huts, snowmobile outings, and there are many health spas where you can relax completely and enjoy being pampered. 
Holidays should be enjoyed to the full! What are you waiting for?
A family holiday in the mountains in our Ski Area is a unique experience for both adults and children.
Dedicated services, organised activities, amusement parks and discounts, thanks to all this both parents and children can really have fun together, experience lots of new things and enjoy the sun and clean mountain air.
THE AREA AROUND PONTE DI LEGNO TONALE
PONTEDILEGNO-TONALE, NATURAL VOCATION.
The area around Pontedilegno-Tonale is located between Trentino and Lombardy, two regions ideally suited for high quality hospitality, sports surrounded by nature and respect for the environment and all its beauty.
 
Differences, typical elements and peculiarities: a holiday in our Ski Area will help you to appreciate all aspects of the mountains, in winter with skis, snowshoes or ski skins, in summer with hiking boots or by bike.
That's not all: in Ponte di Legno, Passo Tonale, Temù and every other town and village there's also time for fun with friends, music and good food.
EXCURSIONS
---
On foot among the most breath-taking views in the Alps surrounded by nature and history
APRÈS-SKI
---
Music, friends and a toast at sunset: here's how to end a day on the slopes!
100 KM OF SLOPES
---
Beginners or experts: our slopes meet everyone's' needs
28 MODERN SKI LIFTS
---
Reach the top in a blink of an eye and enjoy your chosen sport!
SKIING ON THE GLACIER
---
You can ski on the Presena Glacier until spring!