Health spas in Pontedilegno-Tonale: relax in the Alps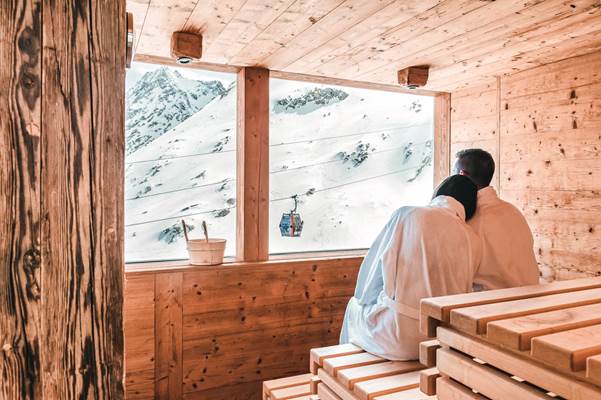 Passing the day in a health spa in the Pontedilegno-Tonale Ski Area means making your winter holiday special, switching off completely and relaxing your mind and body in a really magical atmosphere. 
After a day on the slopes, a good trek in summer on the peaks or an adventurous MTB tour there's nothing better that letting yourself go in an Alpine style health spa.


The hotel and resort spas in Pontedilegno-Tonale provide guests with the possibility to spend a few hours taking care of their well-being:
heated swimming pools with Jacuzzis
swimming pools for children with shallow water and water games
Finnish and infrared saunas  
relaxation areas with loungers and herbal tea corners
Turkish baths or caldariums
sensory showers with colours and aromas  
ice falls to revitalise circulation  
Often the health spas in the hotels present in the Pontedilegno-Tonale Ski Area also provide special beauty treatments using high quality creams and products made with alpine ingredients; it is also possible to request specific massages for sports people.
In Pontedilegno-Tonale there is also a record-breaking spa: a health spa on the Presena Glacier where you can bathe in warm water while admiring the breath-taking scenery through the large windows.
Relaxation and well-being on holiday
Lots of well-equipped hotels with their own spas
the possibility to book private spas
Turkish baths, Finnish saunas, ice falls and relaxation areas
specific massages for sports people
detox beauty treatments
Steam and aromas among the glaciers, the highest Spa in Pontedilegno-Tonale
Every health spa has its own atmosphere and charm but enjoying a warm indoor sauna while admiring the rocks, ice and amazing scenery at a high altitude is something else.
The Spa in the Capanna Presena Mountain Hut is the highest in the Pontedilegno-Tonale Ski Area, it is located on the Presena Glacier at an altitude of 2,753 metres above sea level. This modern design atmosphere has a Finnish sauna, an infrared healing sauna and a heated jacuzzi swimming pool. Here thee black lava rock and the white glacier make relaxing a unique and unforgettable experience.

Our Ski Area does not only have a record-breaking Spa at an altitude but one underground as well: a large spa is being built in Ponte di Legno, a Thermal Centre which is 30 metres underground.
Want to relax after sport? Here are the hotels in Pontedilegno-Tonale with Spas
There are now many hotels in Pontedilegno-Tonale with spas, each with their own elegant health spa often equipped with a beauty farm where you can be pampered with specific treatments and massages.
All hotels with spas
Alps Wellness, Hotel delle The Alps, via circonvallazione, 20
Aquamontana, Sporting Hotel, via circonvallazione, 21
Il cirmolo, Hotel la Torretta, via circonvallazione, 7
Centro Paradiso, Grand Hotel Paradiso, via case sparse del tonale, 51
La sorgente, Sport Hotel Vittoria via nazionale, 8
Vitthe Alpsna, Hotel Gardenia via nazionale, 20
Wellness Miramonti, Grand Hotel Miramonti via nazionale, 4
Adamello Resort, via nazionale, 2
Blu Hotel Acquaseria, Località Acquaseria
Hotel Mirella, via Roma, 21
Jolly Resort &Spa, via fratelli calvi, 74
La tana dell'orso, via case sparse del Tonale
Residence club, Ponte di Legno via Cida 53
Agriturismo Belotti, via Cesare Battisti, 11
Hotel Avio, via Roma, 26
Hotel Sciatori, via Roma, 77