Dog sledding in Lombardy and Trentino: let's go on an adventure!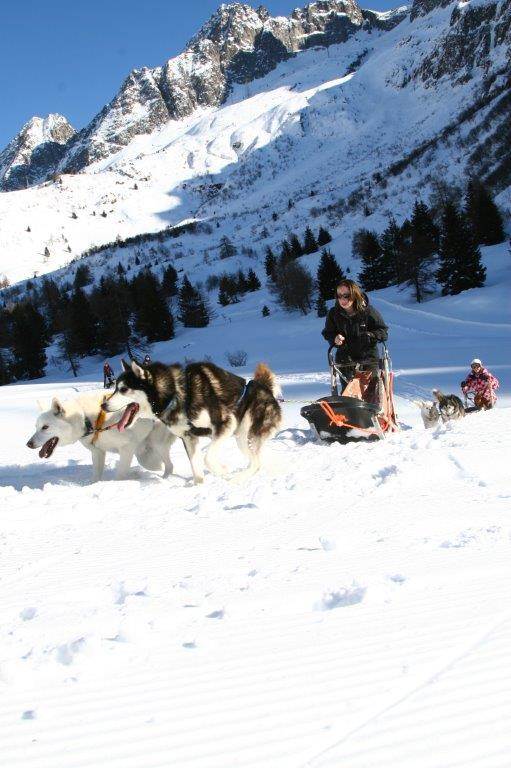 Have you ever heard of Dog sledding? In Lombardy and Trentino you can learn how to drive a sled pulled by dogs surrounded by the wild nature of the Alps.
In the Pontedilegno-Tonale Ski Area there is the Scuola Italiana Sleddog, a prestigious dog sled training centre with Alaskan and Siberian huskies and Samoyeds that is recognised at a national and international level.
Thanks to initiatives by the school adults and children can drive a sled led by Siberian dogs surrounded by woods and expanses of snow: this way everyone can become mushers, i.e. sled drivers or feel like intrepid Artic explorers.
The school provides fantastic initiatives for those looking for a unique and particular experience on their winter holiday, as well as lessons for those that want to learn more about this particular sport.  
Dog sledding is particularly suitable for children who can learn the meaning of autonomy and working together as well as understand the right relationship between people, animals and wild nature. 
Not just in the winter, in the summer you can keep training with Husky-trekking, walks with the dogs at altitudes suitable for all the family
Unspoilt landscapes, a sense of adventure, freedom and harmony with animals. A dog sledding excursion is an experience not to be missed!
Like ancient North Pole explorers
basic, intermediate and advanced dog sledding courses
musher lessons opens to children of > 10 years of age
certified instructors and a CONI recognised school
excursions organised on snow with sleds
summer activities and trekking with Siberian dogs
Scuola Italiana Sleddog, unique to Pontedilegno-Tonale
Not just fascination and adventure dog sledding is a real sport you can easily get to love. La Scuola Italiana Sleddog is a CONI affiliated association and over time has become a benchmark for all national and international events relating to dog sleds.
Instructors at the schools are highly qualified and pay a lot of attention to the well-being of the animals.  The latter, the absolute protagonists of dog sledding love the company of people and even manage to capture the attention of even slightly shy young participants. 
Given the character and training of the Huskies, the school actively collaborates with the Soccorso Alpino Mountain Rescue Service and the Protezione Civile.

Scuola Italiana Sleddog Pontedilegno-Tonale
Tel. 0364.92231
Mobile . 338.8137697 (Armen Khatchikian)
E-mail: info@scuolaitalianasleddog.it