Alpine skiing, test your limits on the peaks in Ponte di Legno and Passo Tonale
Alpine skiing in the Pontedilegno-Tonale Ski Area is the sport that really tests your strength and ability and helps you discover the wild and authentic side of winter.
Our Ski Area is ideal for Alpine skiers that can find a series of different routes in terms of difficulty, duration and technique here.
All enthusiasts of skiing with ski skins can choose from very simple and busy slopes as well as difficult multi-day tracks that require physical training and lots of technique. Routes for expert and fit Alpine skiers can also include some sections on rocks that need to be tackled with Alpine skiing equipment.
For those that want to try Alpine skiing in the Pontedilegno-Tonale Ski Area there are lots of services such as a special ski pass, the possibility hire equipment and safety equipment.              
Skiing with sealskin ski skins combines the emotions of climbing with breath-taking descents and wild environments that reawaken your sense of adventure and exploration.
Far from the slopes and mass tourism Alpine skiing lovers can enjoy almost supernatural silence and blinding expanses of fresh snow that contrast strongly with the intense blue of clear winter days. Glaciers and perennial snowfields also make Alpine skiing possible even in the spring.
One sport, a thousand emotions
unspoilt nature and breath-taking scenery
off-piste descents on glaciers and snowfields
a special ski pass for Alpine skiers
routes for beginners and experts
the possibility to hire ski skins, equipment and an avalanche beacon
Alpine skiing routes on the peaks around Passo Tonale and Ponte di Legno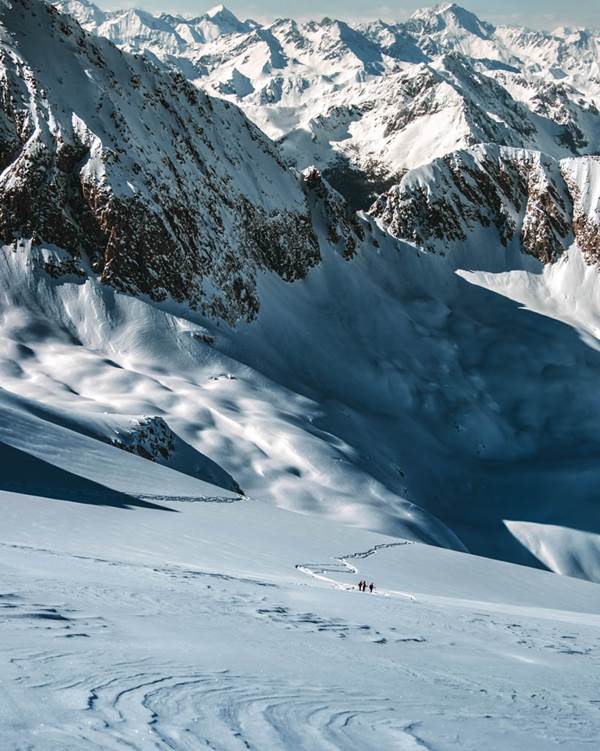 The glaciers, snowfields and mountains in our Ski Area seem to have been specially made for arduous ascents and thrilling descents. There are numerous Alpine skiing routes in Pontedilegno-Tonale which are perfect for both beginners and more expert Alpine skiers.
Here are three examples.                                             
Presena Peak, Alpine skiing on the glacier   
Conquering the peak of a glacier is not for everyone but the route that reaches Presena Peak is also suitable for less expert skiers.
Starting from the forest road that leads to Val Presena you reach Passo Paradiso; here you climb the glacier up to 3,069 metres above sea level where it is possible to admire a spectacular view of Mount Adamello and Pian di Neve. The descent can be either by taking the route you went up on or on the Presena Glacier slope.
If you decide to take this route when the ski lifts are closed it is possible to reach Passo Paradiso using ski skins on the famous Pista Nera Paradiso for a total of 1,200 metres of elevation gain.
Pisgana and Pisganino, thrilling Alpine skiing  
The Pisgana Alpine skiing route is short and scenic and requires very little effort uphill. Despite this the descent is rather challenging and therefore it is necessary to have good skiing skills.   
The route starts in Passo Presena, which can be reached using the ski lift and arrives at Passo del Pisgana: here, after a height difference of just 400 metres it is possible to launch into a 2 km descent down to Ponte di Legno. In the event of poor snow conditions we recommend the descent from Pisganino.
Alpine skiing on Mount Adamello
One of the most coveted places for Alpine skiing is the grand tour of Mount Adamello, a two day excursion with a 1,400 m elevation gain and a total of 3,000 metres of vertical drop in descent. Ascending with the ski lifts to Passo Paradiso you first come to the Città di Trento Mountain Hut, then you climb to Pian di Neve to reach the Caduti dell'Adamello Mountain Hut; when the ski lifts are not open these places provide bivouacs equipped with camp beds and basic supplies. From here you can climb to the top of Mount Adamello and, once you have reached Passo Venezia, launch into a spectacular descent of Vedretta del Pisgana to reach Ponte di Legno.
Some information to get the best out of Alpine skiing …
The most famous Alpine skiing event is the Adamello Ski Raid: from Passo Tonale 700 participants reach Ponte di Legno by crossing through the wild surrounds of Pian di Neve. 43 km and 8,000 metres of elevation gain and height difference make it an internationally recognised competition. The Adamello Ski Raid is one of the 6 spectacular races in the Grande Course event.

Locally there is the Lunarally, an Alpine skiing race by moonlight that starts at the Military Memorial in Passo del Tonale and goes to Malga Valbiolo, Mount Tonale and Malga Serodine for a total of 9.5 km and 800 metres of elevation gain.
For those that want to try Alpine skiing it is possible to choose easy routes that do not require particular technique or physical resistance, for example Mount Bleis that starts from Passo del Tonale (878 metre elevation gain) and Mount Savoretta that starts from S. Apollonia - Ponte di Legno (1,480 metre elevation gain)
In addition to clothing it is necessary to take an avalanche beacon, a shovel, a probe, an ice axe, crampons, polaroid sunglasses, sun cream and a helmet.
Before departing it is always mandatory to check the avalanche warning report and let your relatives, friends or the hotel where you are staying know where you are going.