The best children's playgrounds on the snow are in Trentino and Lombardy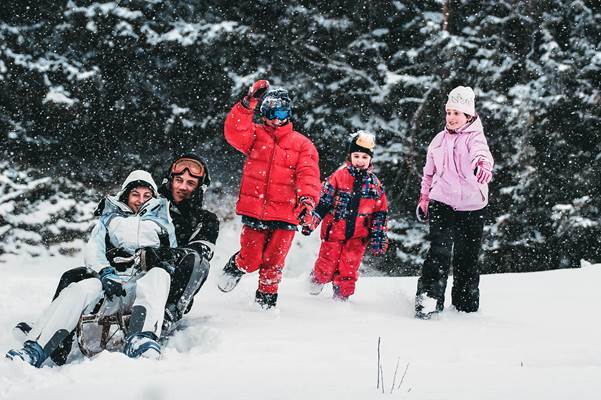 Every children's snow park in Trentino and Lombardy is really fun!
In the different areas equipped for children in our Ski Area children can have fun in the fresh air even in winter with bouncy castles and soft coloured animals, tracks for sleds, toboggans and snow-tubing.


Inside these snow parks there are also simple blue runs where budding skiers can experiment their first descents with peace of mind.  Here the ski schools in the Ski Area hold lessons for beginners.


In our Fantaski area there is also a baby sitting and mini-club service with a flexible time formulas. This way parents can enjoy the fantastic slopes in the Ski Area  while their children are in safe hands.
Everything a child could desire… And much more!
air boards, snow-tubing, sleds and toboggans
colourful bouncy castles on the snow
travellators and protected, safe blue runs
entertainment, activities, face painting and snacks
mini-club and baby-sitting services
Children's playgrounds and fun on the snow in Ponte di Legno and Passo Tonale
A child's winter holiday is never really complete without a toboggan run, descents on rubber rafts, baby dances and new friends.
If you are looking for a children's playground on the snow in Ponte di Legno and Passo Tonale you're in the right place: here are all the places your children can have fun!
La Bruscadéla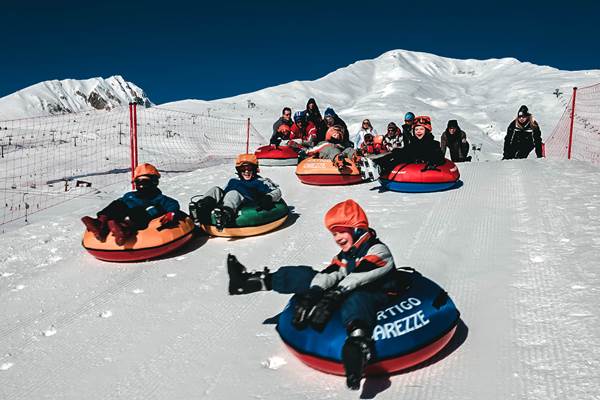 In Vermiglio on the Trentino side of Passo del Tonale, there is a snow park that should really not be missed! Located next to the cross-country skiing centre in Val di Sole, La Bruscadéla provides children with fun descents on rafts and air boards, sleds and toboggans; the snow-tubing slope also has a convenient travellator.
In this snow park even small children can have fun with the soft, coloured rubber animals.
La Bruscadéla
Next to the cross-country skiing centre – Vermiglio (TN)
Fantaski Park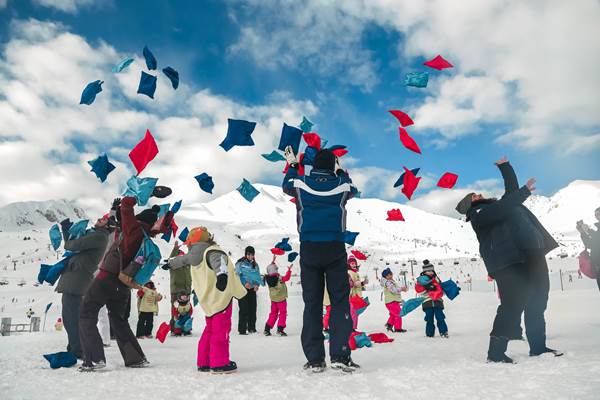 The Fantaski playground in Passo del Tonale, is a fantastic baby park.
The park has 2 easy ski slopes with a travellator where often the ski schools in the Ski Area hold lessons for beginners.
Next to an area with colourful bouncy castles there is a fun slope for sleds, toboggans and baby-snowtubing.
This children's playground in the snow in Trentino provides parents with explosibility to leave their children for a few hours in the Mini-club or with the babysitter service in the small heated chalet.
Fantaski Park
Passo del Tonale
Open every day in the winter season .
Fun Kids Evenings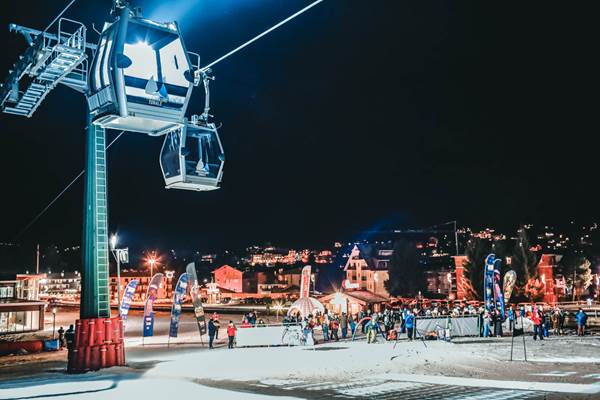 During the winter we organise special evenings for children and the world of play: Fun Kids Evenings.
One evening every week both in Ponte di Legno and Passo Tonale, children can play together in the snow: music, entertainment, hilarious ski competitions, torchlight processions, face painting, Disney XD contests and delicious snacks with hot chocolate and frittelle!
Passo Tonale:
c/o the Tubbo travellator
Thursday 26 December 2019 at 17:00
Thursday 2 January 2020 at 17:00
Every Wednesday from 8 January to 18 March 2020 at 17:00
Ponte di Legno:
c/o Campo scuola Cida
Saturday 28 December 2019 at 20.30
Friday 3 January 2020 at 20.30
Every Wednesday from 8 January to 18 March 2020 at 20.30