Skiing in Trentino and Lombardy: here's why!
Skiing in Trentino and Lombardy is a unique experience: here on the border between the two regions the mountains provide ideal conditions to do every kind of winter sport: from classic descents, freeriding, snowboarding, cross-country skiing, snowshoeing and Alpine skiing .
The Pontedilegno-Tonale Ski Area has modern ski lifts and programmed snowmaking systems to ensure perfect skiing conditions at all times.
Our Ski Area provides many services to adults as well as families: there are lots of fun activities for children such as baby parks, easy blue runs for them to learn to ski on and the possibility to make new friends during evenings full of entertainment.
The ideal destination for sports enthusiasts, groups of friends and couples, Pontedilegno-Tonale has lots of things to do to have fun and relax: spas in the hotels, health spas with really unique designs as well as mountain huts where you can enjoy traditional dishes and fantastic Après Ski to end a day on the slopes in style.
The perfect winter holiday awaits you!
100 km of slopes all connected together
41 descents with programmed snowmaking
28 modern ski lifts
The possibility to do lots of winter sports
Fun and places especially for children
Exclusive spas for relaxation
Traditional mountain huts and Après Ski
Some of the most modern ski facilities in Trentino and Lombardy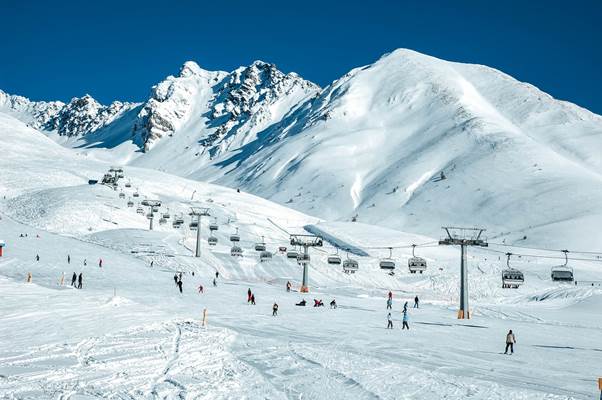 The 100 km of downhill slopes in our Ski Area can even satisfy more demanding skiers: the 41 slopes are regularly groomed and compacted to ensure skiers quality ski conditions in complete safety.
In winters where it does not snow very much the slopes in the ski area are covered with snow using effective programmed snowmaking systems; if conditions permit on the other hand some slopes can be used until spring.  
28 modern ski lifts, connect the different slopes in the Ski Area and make it possible to reach high altitudes quickly to dedicate yourself to your favourite activity.
Our ski resort is even close to Milan, Brescia and Bolzano, and easily reached using regional public transport.
Cross-country skiing and much more: all winter sports are here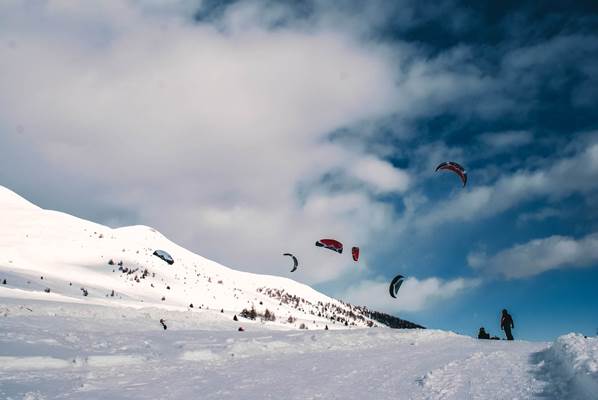 There are lots of winter sports in our Ski Area and you can try them all!
There are two cross-country skiing centres, one in Trentino and one in Lombardy, for a total of 30 km of tracks just for Nordic skiing enthusiasts. And? Classic downhill slopes, freeriding, Alpine skiing, a snow park for snowboarding, lots of snowshoe tracks and for those that want to try something really different there's also the thrill of snow kiting!
That's not all: in the Pontedilegno-Tonale Ski Area you can also try night skiing on illuminated runs surrounded by a truly magical atmosphere!
Skiing in Trentino and Lombardy with children: colour and fun!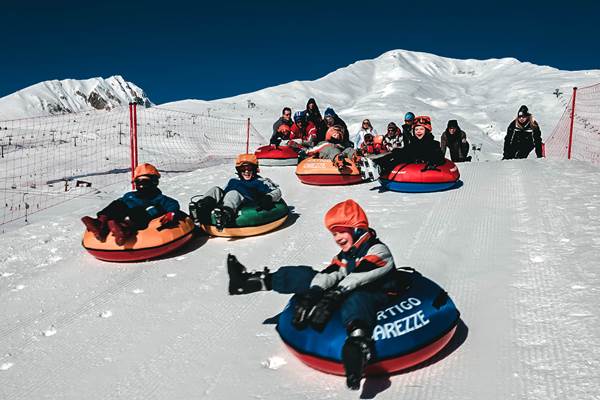 A winter holiday in Pontedilegno-Tonale is always a great experience for children. Here there are lots of activities that are especially for them: blue runs where they can learn to ski, lots of snow parks with colourful bouncy castles, toboggan, snow-tubing and bobsledding runs: skiing in Trentino and Lombardy with children has never been so much fun!
That's not all: during the winter our entertainment staff organise fun evenings for children with games, music and sweet snacks. 
Parents also have a mini-club and baby-sitting service to go skiing on more challenging slopes or enjoy an snowmobile ride.
Beyond skiing: pamper yourself with the luxury of relaxation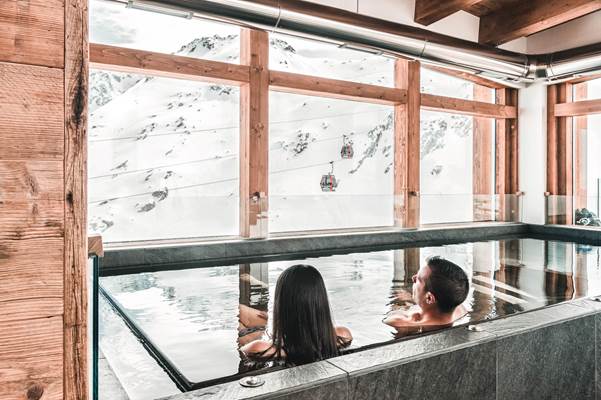 During a skiing holiday in Trentino and Lombardy it is mandatory to dedicate some time to pampering yourself, enjoying good food and having fun.
In the Pontedilegno-Tonale Ski Area you can do all of this: many hotels have private spas where you can relax and enjoy a massage after a day on the slopes; don't miss the thrill of diving into a warm pool at an altitude of 2,753 metres above sea level at the Capanna Presena.
Well-being also means eating well: in the mountain huts you can enjoy traditional dishes, relax on panoramic terraces and listen to music at après ski at sunset.
To elaborate a bit more'…
Our answer is Pontedilegno-Tonale! Our Ski Area is in both regions: all slopes are connected together and can be accessed with just one ski pass.
The two Ski Areas in Trentino, Passo Tonale and the Presena Glacier provide fun for everyone with 25 ski slopes: 8 blue runs, 15 red runs and 2 blacks runs, all accessible using 18 ski lifts. In Passo Tonale there is also a snow park while on the slopes on the glacier it is possible to ski until the middle of spring.
Ponte di Legno and Temù are the Ski Areas that are located in the Lombardy region. Here there are 11 ski lifts that provide access to 16 ski slopes: 2 blues runs, 10 red runs and 4 black runs.
In addition to skiing it is also possible to enjoy a dog sled ride.
The Pontedilegno-Tonale Ski Area is famous for the Ice Music Festival : from January to March on the Presena Glacier special concerts are held in an igloo-theatre. Inside many famous international musicians play particular instruments made of ice.
If you love unspoilt nature and sport together with other people then the Caspolada al chiaro di luna (Moonlight snowshoe walk) is just for you! In Vezza d'Oglio between the end of January and the beginning of February 4,000 snowshoe walkers get together to discover Valle Camonica at night with snowshoes on their feet!