Snowshoeing in Lombardy and Trentino: here's where you can try a snowshoe excursion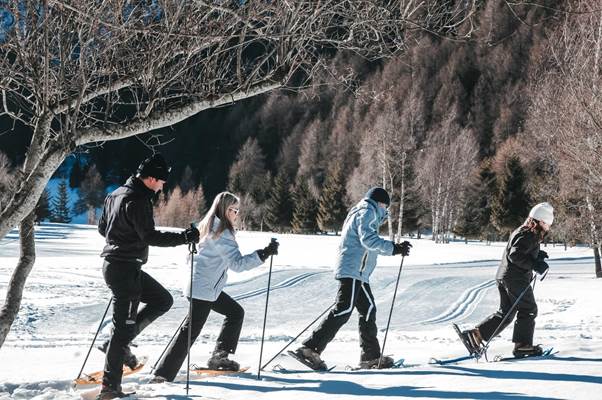 Snowshoeing in Lombardy and Trentino is an alternative way to explore the snow covered mountains in these two wonderful regions in Northern Italy.  Snowshoe walks are ideal for those that do not ski or simply want to experience the mountains at a slow pace.
In the Pontedilegno-Tonale area between Lombardy and Trentino, there are many woods and valleys that are perfect for snowshoe excursions. There are more than 20 snowshoe trails in the Pontedilegno-Tonale Ski Area: you can choose which one to do depending on the characteristics of the route and your own ability.
Do not miss the most famous snowshoe excursion in Lombardy, the "Caspolada al chiaro di luna". Once a year in Vezza d'Oglio all fans and enthusiasts gather for a fantastic excursion through the woods by moonlight: a really unforgettable and unique experience!

Snowshoes are ancient tools designed by Nordic populations to walk over fresh, high snow without sinking in. Today snowshoes, called caspole in Lombardy are very light and comfortable and suitable for both adults and children and are ideal to use to venture into woods and onto slopes at a slow pace while enjoying the winter scenery. The crampons positioned under the snowshoes ensure stability and safety in the event of ice. 
A snowshoe excursion in Lombardy and Trentino is a unique and fascinating experience that takes all snow lovers right into the midst of the most authentic winter atmosphere with profound silence and snow-filled landscapes.
Snowshoes: try them in Pontedilegno-Tonale!
16 routes in Valle Camonica
5 routes in Val di Sole
Group excursions with expert guides
1 annual event the "Caspolada al chiaro di luna"
Possibility to hire equipment
Try a snowshoe excursion in Ponte di Legno and Passo Tonale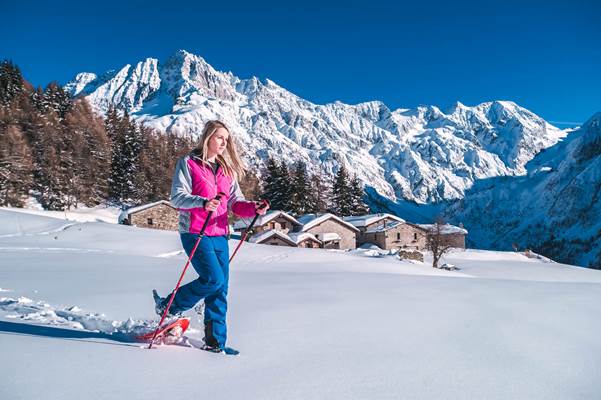 What is it like on an excursion in the snow in Trentino and Lombardy with snowshoes?
It is possible to book an accompanied excursion at the Scuola delle Guide Alpine Vallecamonica Adamello or take a look at the  group excursion calendar  on our website. You need to wear warm clothing complete with gloves and hiking boots; a ski suit for example is perfect!
Those that are already experts on snowshoes can hook them on and enjoy one of the fantastic snowshoe excursions in Lombardy and Trentino! As with any other excursion on your own in the snow we highly recommend you take an avalanche beacon.
Every year in our Ski Area there is an interesting group event the "Caspolada al chiaro di luna". Between the end of January and the beginning of February more than 4,000 participants gather in Vezza d'Oglio to go and  discover Alta Valle Camonica at night in a really magical atmosphere.
Snowshoe routes in Val di Sole and Valle Camonica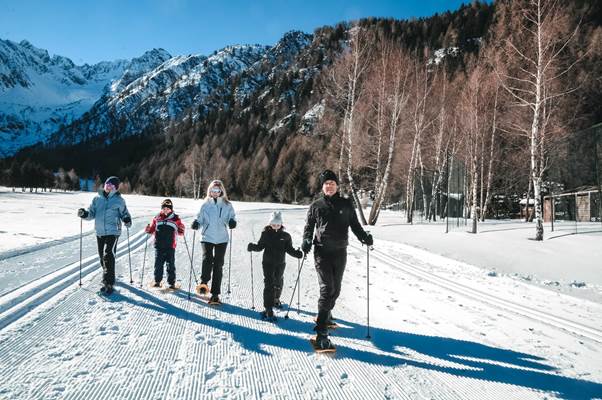 There are more than twenty snowshoe routes in the Pontedilegno-Tonale Ski Area: it is possible to choose which one to take depending on experience, training, duration and height difference.
16 snowshoe routes in alta Valle Camonica will take you with small or greater height differences to discover unique places such as Mortirolo, Valbione, Corno d'Aola and Val Grande.
Download the PDF and choose the route that suits you!
On the other hand there are 5 snowshoe routes in Val di Sole that you can take to discover Trentino: simple routes in Plan dei Pradi, small lakes and waterfalls in Vermiglio or more challenging routes like the one that goes to Saviana.
Download the PDF and learn more about all the snowshoe routes around Passo Tonale!
Snowshoeing in brief…
Snowshoes are wide frames that clip onto your hiking boots: this way the large supporting surface prevents you from sinking into the snow. Crampons ensure major adherence on ice.
There are more than 20 well marked snowshoe routes between Lombardy and Trentino.