Ponte di Legno Tonale ski area, the perfect winter holiday.
The Pontedilegno-Tonale ski area covers a vast alpine area between Trentino and Lombardy.
At an altitude of between 1,121 and 3,000 metres above sea level the slopes in the Ski Area allow all skiing enthusiasts to learn new techniques and challenge themselves to ensure days of pure fun for both experts and beginners.
The different characteristic of the nature and landscape between Passo Tonale, the Presena Glacier, Ponte di Legno and Temù are a joy to discover on skis and on foot!
The Ponte di Legno and Temù ski areas have slopes that pass through pine and spruce forests and sudden panoramic views. The slopes in the Tonale ski area pass through open fields among wide snowy spaces that are bordered only by mountains; the tracks that descend the Presena Glacier are set between mountain rocks and breath-taking views.
These four ski areas are linked together with 41 slopes, 30 ski lifts and an efficient free ski bus service.
There's not only skiing: in the Pontedilegno-Tonale ski area, there are lots of fun things for skiers and non-skiers, adults and children, sports enthusiasts and holiday-makers looking for sun and relaxation to do even in the middle of winter: après-ski for an aperitif after skiing, health spas on the peaks and snow parks for children to have fun in.
Ski map Pontedilegno-Tonale
A modern and well-equipped Ski Area
41 ski slopes: 10 blue, 25 red and 6 black
Departure points: maximum altitude 3,000 m., minimum altitude 1,121 m.
28 ski lifts
4 ski areas and 1 ski pass
more than 12 mountain huts for lunch, dinner and après-ski
4 different ski areas to discover with just one ski pass!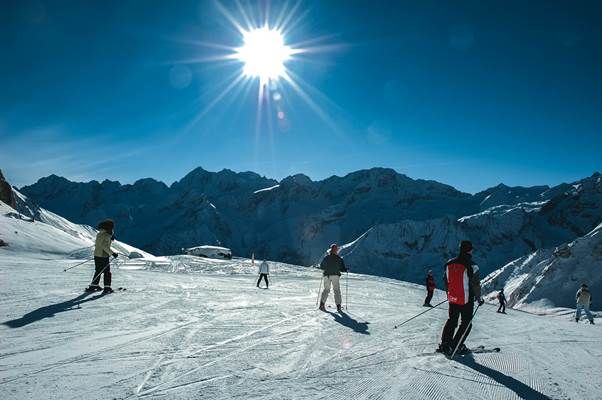 Mountain views, breath-taking descents, sunny plateaus or wild snow-covered pine forests?
Discover the characteristics of our four ski areas and choose the one that suits you best!
Don't forget: given the slopes and ski lifts are all connected, with one ski pass you can discover the beauty of each ski area… Even in one day!
The Presena Glacier ski area
The Presena Glacier ski area will take your breath away: ski on a real alpine glacier ! From the top of the mountain at 3,069 metres above sea level the slopes take you straight to Passo Tonale and Ponte di Legno.
In addition to classic ski slopes such as the famous Pista Paradiso black run, on the slopes of Presena you can even try alpine skiing and freeriding. 
A modern cable car divided into three sections, three glamorous mountain huts and truly spatial winter landscapes make your day unique on the peaks!   
Passo Tonale ski area
360° views and sun until evening: this is the Passo Tonale ski area.
On the Pass that connects Trentino to Lombardy there are simple slopes and snow parks where children can learn how to ski and have fun, as well as red panoramic runs in open fields with modern cable cars, chairlifts and ski lifts, as well as a snow park complete with a ski-cross slope. 
Ponte di Legno ski area
The Ponte di Legno ski area looks like it came out of a fairy-tale: expanses of pine and spruce forests covered in snow, slopes that pass through forests and breath-taking views that open up unexpectedly. 
On the famous Angelo and Corno d'Aola slopes fun is guaranteed! Here you can put into practice everything you know about skiing.
Temù ski area
Surrounded by a surreal forest landscape covered in snow of the Adamello Nature Park, the Temù ski area has wide, panoramic slopes. These slopes are ideal for everyone: children and beginners can have fun on the blue run in the ski school and experts can tackle the Temù black run.
Skiing in Ponte di Legno - Tonale, a complete experience