Adrenaline, water and lots of fun? Rafting!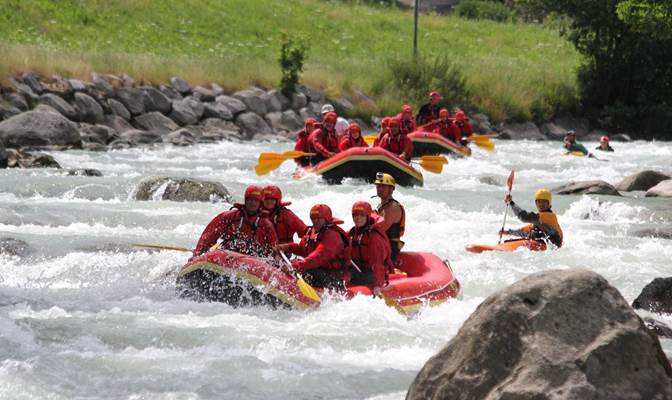 Going rafting is a unique experience that combines adrenaline, adventure and communing with nature! Rafting allows you to venture onto the untamed water of rivers and ride rushing rapids on board special rubber boats called rafts.
In the area around Pontedilegno-Tonale it is possible to try the unique experience of rafting on the River Noce in Val di Sole.
This river in Trentino is recognised on a global level not only for its natural beauty  but also for the rapids that reach up to class 5. The river can be navigated for a distance of 30 km through current, rapids, bends, rocks and small jumps and there are quiet stretches where you can enjoy the scenery in the valley. There's no wonder that every year it is used for important national and international competitions.
Despite the fact that rafting is considered an extreme sport in Val di Sole it is also possible to choose quieter descents that are also suitable for families and children.
Ride the rapids!
30 km of navigable waters
Exciting rapids up to class 5
Different descents depending on difficulty
Expert instructors at hand
Wet suits, life jackets and helmets provided
The River Noce, a Rafting paradise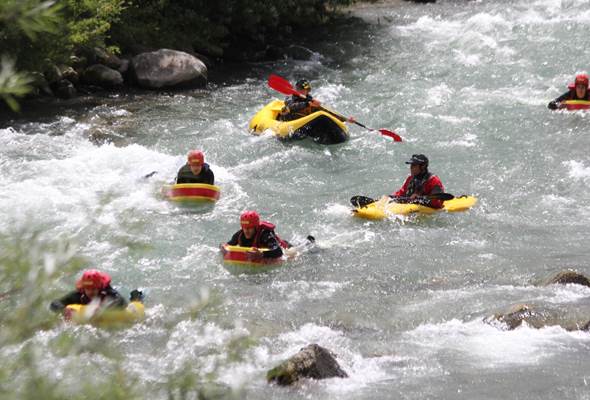 The tumultuous water of this river comes directly from the glaciers on the Ortles-Cevedale Group, pass through two valleys in Trentino, Val di Sole and Val di Non, and finally joins the River Adige. At the beginning of its journey the Noce still appears to be a wild and untamed stream: this is the reason it is known globally for its thrilling rapids that range from class 3 to class 5 on a scale of 6!
Despite this Rafting in Val di Sole is open to everyone: groups of friends, adventurers, families and children over 6 years old can choose from different routes with different levels of difficulty.
The reinforced 6-seater rubber boats used for riding the rapids are completely safe and all participants are given a wet suit, a helmet and a life jacket. On board these particular crafts instructors give precise instruction: row, stop or prepare for a soaking!
BOOKING AT:
Ursus Adventures
E-mail: info@ursusadventures.it