Cross-country skiing in Ponte di Legno and Tonale: well-being in the snow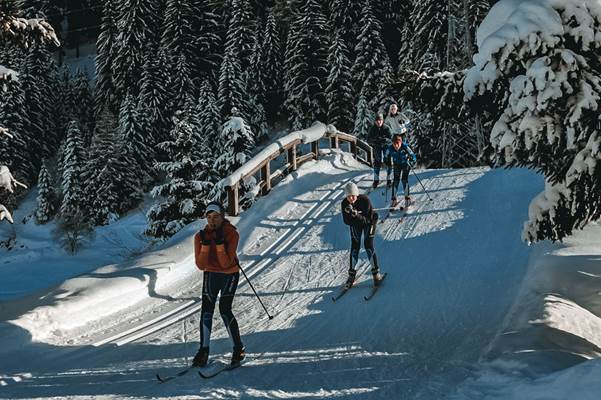 There are two centres dedicated to cross-country skiing in the Pontedilegno-Tonale Ski Area: the Centro Fondo Valsozzine in Ponte di Legno and the Centro Fondo Vermiglio in Trentino.
The two centres provide a total of 30 km of perfectly groomed slopes and 8 rings of different lengths and difficulty levels that are suitable for both beginners and experts.
Inside the Centro Fondo Valsozzine it is possible to book private or group Nordic skiing lessons, even for competition preparation, while at the Centro Fondo Vermiglio you can ski at night. In both centres in our Ski Area you can rent equipment and use the changing rooms, showers and the cafeteria.  
Cross-country skiing is defined as a complete sport given that every part of the body is involved: it is good for the cardio-circulatory system without overloading it, it develops coordination and the cold and movement make it possible to burn lots of calories at the same time. 
In addition to the physical benefits the two cross-country skiing centres in the Pontedilegno-Tonale Ski Area are surrounded by picturesque winter scenery with woods, small lakes, open fields and along the river: stress relief is therefore guaranteed.
Muscle toning and mental well-being make this sport really ideal for everyone.
Training, fun and special services
2 cross-country skiing centres
8 rings for a total of 30 km of tracks
programmed snowmaking
ski school and equipment hire
extra services such as showers, changing rooms and bars
Centro Fondo Vermiglio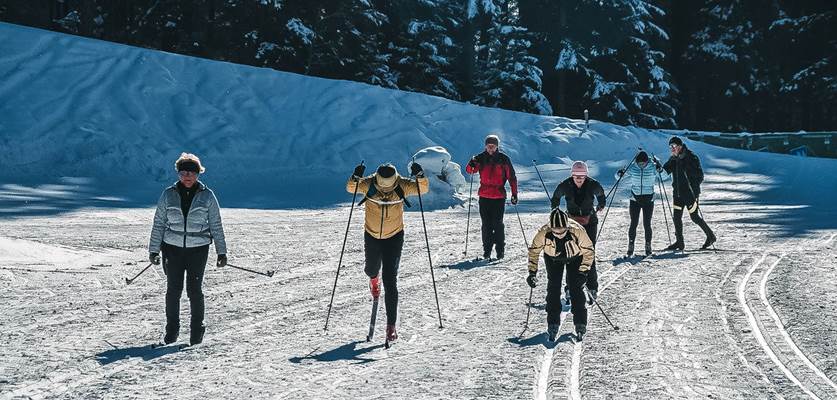 The Centro Fondo Vermiglio is ideal for those that want to ski at a slow pace while enjoying the unspoilt nature and perfect snow. The centre is located near Vermiglio, a village in Val di Sole situated in a beautiful area with small lakes; here Nordic skiing lovers can train on more than 20 km of tracks.
The are 5 rings for different levels of difficulty and are therefore suitable for beginners and experts who want to train before competitive races.
On one of these cross-country tracks in the Trentino it is also possible to sky at night: the romantic 1.5 km long Pista Laghetti remains lit until 23:00.
Next to the Nordic skiing tracks there's the "La Bruscadela" children's Snow playground where children can have fun while their parents relax on deckchairs the sun terrace.
Near the Centro Fondo di Vermiglio it is also possible to hire skis and equipment; there are also showers, changing rooms and a bar.
Centro Fondo Valsozzine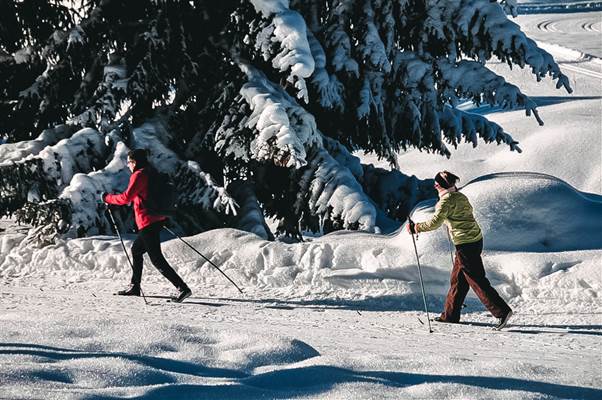 The Centro Fondo Valsozzine is in Ponte di Legno. The 3 rings create a charming route that passes near the  Narcanello stream and then goes through the woods.
The tracks are connected together and provide hours of fun or training for skiers of all levels: the tourist track, for beginners is around 2.5 km long while the intermediary one is 3 km and the track for experts provides 5 km of competitive training.
In the centre there are also showers, changing rooms and an equipment hire service.
These 3 cross-country skiing tracks in Lombardy are equipped with a programmed snowmaking system that ensures fresh snow even if it doesn't snow.
At the Centro Fondo Valsozzine ski instructors from the Ski and Snowboard school in Pontedilegno-Tonale ski school provide private or group Nordic ski skiing lessons.
Do Nordic skiing in the Pontedilegno-Tonale Ski Area
The Valsozzine and Vermiglio cross-country skiing centres have tracks that are also suitable for beginners.
At the Centro Fondo Vermiglio the Pista Laghetti is lit until 23:00.
Every ski hire point in Ponte di Legno and Passo Tonale, as well as the cross-country skiing centres will be able to supply you with the right skiing equipment.