User-friendly snow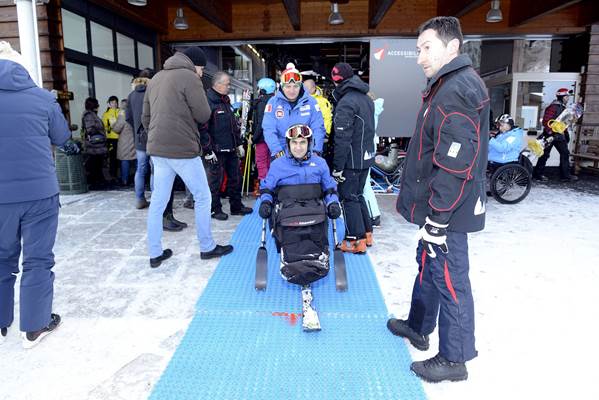 Show at the lift pass office your disability certification and you get a reduction on the skipass price (daily and consecutive days skipass): for disability under 50% the skipass is reduced by 25%, for disability of or over 50% the skipass is reduced by 50%.
The skiarea Pontedilegno-Tonale is taking part in a project aiming at making the access to the lifts for people with monoski or dualski easier. The lift involved in the project is the cable car Pontedilegno-Tonale, where the floor made of an innovative plastic material enables an easy access by gliding on this surface and getting in the lift. The material is named Neveplast and it is placed at the departure and arrival of the middle and top station and inside some cables (1 cable every 10 cables).
To meet the needs of people with disabilities, two Chair Stations have been situated in order to make the connection from the snow to the pavement easier for people with wheelchair or monoski.
Our Ski schools are qualified to teach people with physical and psychological disabilities, including relational, mental and intellectual disabilities,  such as mental retardation, autism, down syndrome, Angelmann syndrome and others. Passo Tonale is characterized by wide and gentle slopes suitable for beginners and people with disabilities. Skiing is not only fun, but also a learning and growth mean. From a social perspective, this sport contributes to a good relational approach and the ski lessons boost the knowledge and the social capability of the skier. Our ski teachers have a special sensibility towards these people and can share greater competence and professional skills. They have been taking special care of these aspects for a long time and these values have been conveyed also to the youngest teachers, boasting a great level of specialization.